Lessons in Lovemaking - Thomas Clarkson Trueblood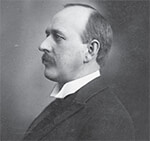 An allegation appeared in a 1903 Chicago Tribune article by University of Michigan freshman "Jam Handy" that Thomas Clarkson Trueblood, University of Michigan professor of elocution and oratory, supposedly taught a course in "Lessons in Lovemaking." The Tribune headline "Learn Sly Cupid's Tricks; Students at Ann Arbor Take Lessons in Love Making" suggested Trueblood was instructing male students on romance rather than oratorical technique.
Actually, he taught the delivery of extracts from oratory masterpieces. One extract involved a scene where a man kneels before a woman, pleading for her hand. The university suspended Handy for a year. Trueblood continued his University of Michigan affiliation for a total of 67 years. Beginning in 1884, he taught speech, a course no other university offered. His course was so popular that he was given permission to form a speech department, the first of its kind in the world.
But Trueblood made more headlines when he bucked the segregation policy and put African American student Eugene Joseph Marshall on his debate team. Marshall won a 1903 championship. The Arm Arbor Agus reported, "For the first time in the history of American universities, a colored man has won his highest honors in oratory in fair and free competition with all comers."
Trueblood was a winner in his own right as the faculty tennis champion who gave up that game and took up golf, becoming Ann Arbor Golf Club's champion. In 1901, Trneblood organized and coached University of Michigan's first golf team, defeating the University of Chicago in the first intercollegiate rnatch held in "the West". Trueblood's teams won National Collegiate Athletic Association (NCAA) Championships and Big Ten Conference Championships. He also coached two NCAA individual champions before retiring at the age of 80.
(Courtesy of the Bentley Historical Library.)