Quakers Advocate for Education for All
With the Quakers, education went hand in hand with religion - whereever Quakers settled, the school house was always found beside or in the meeting house (church). Quakers assumed the duty of building schools not only for their own, but the Indians, Negroes and white settlers as well. They had no prejudices.
Washington County gained a reputation in the 1800s as an educational center, and the town of Salem became known as the "Athens of the West." The first emigrants to the county were well educated for that day. Many were college graduates who believed strongly in the importance of education.
Quakers were always strong advocates for good schools and did much in early times to place Washington County in the front rank along educational lines. They believed in education for all, no matter what the gender or ethnic background of the person. The same source that evidenced the care of Native Americans states the need "to consider the establishment of an institution for the instruction of our youth". The Hicksite Friends Meeting House itself was used as a schoolhouse for a period of time soon after it was completed.
In 1831, the Society of Friends of Salem built and operated a brick building named as the Blue River Academy located about one mile east of the Hicksite meetinghouse. This school gained widespread acclaim for its high academic standards, and students came from as far away as New Orleans to attend. The original Blue River Academy became overcrowded, so a larger schoolhouse was built in 1864. It was a "graded" school, offering four courses of study: primary, intermediate, grammar school, and high school. The cost of each twelve-week term ranged from $5 to $9. Students at the academy could obtain room and board in private homes nearby at a cost of $2 to $3 per week.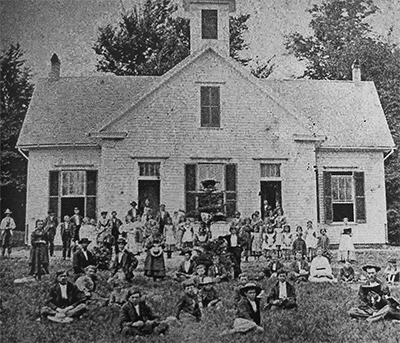 In the early 1900s, Blue River Academy had one of the first marching bands in Indiana. The band was completely outfitted with uniforms and played at the county fair and other special celebrations. The Academy had its first football team in 1899. They boasted a 6-5 win over Salem High School.
The Academy was consolidated with Salem High School in 1905. The Quakers rented the building to Washington Township from 1909 to 1957 for a rural grade school. The school was never modernized except for the addition of electricity in 1937. Two coal or wood burning stoves heated the two large classrooms, there was no running water, and restrooms were of the "outdoor" variety.
The old Blue River Academy, which stood for nearly a century, was torn down in 1960 due to vandalism and lack of funds for repairs. Thousands of students received an education at the Blue River Academy during its 126 year history.
Among the alumni of the Academy who gained renown in the past were Joseph Moore, President of Earlham College; Thomas Clarkson Trueblood, a noted lecturer and author of several books on public speaking; and Benjamin Franklin Trueblood, who became well known as secretary of the Universal Peace Congress and as a lecturer and writer on international arbitration and peace.
An annual reunion of the alumni is held the second Sunday in August at the Blue River Friends Meeting House.
Distinguished Alumni of a Quaker Education
Thousands of students received an education at the Blue River Academy during its 126 year history. Several distinguished educators began their educational career at this school.
Barnabas Coffin Hobbs
Barnabus C. Hobbs grew up in the Blue River Quaker community in Salem, and graduated from the Blue River Academy. Hobbs was appointed in 1867 as the first president of Earlham College. Hobbs previously served as superintendent at the boarding school. He was a recorded minister and served as president of Earlham through 1868, leaving to become Indiana's Superintendent of Public Instruction.
He did his preparatory work in the Washington County Seminary which was conducted by John I. Morrison. He received his college training at Cincinnati College, though he did not receive a degree because he omitted some required subjects. After a varied experience as a teacher, he became principal of the Bloomingdale Academy in Parke County where he remained until he went to Earlham. While at Bloomingdale, he was a member of the board of trustees of the nascent State Normal School, and, except for very brief intervals, he was a trustee for the remainder of his life.
The Normal School and Bloomingdale Academy were institutions in whose welfare he was deeply interested. He was an able educator who was but fifty-six years of age when he retired from the State Superintendent's office. It was unfortunate that he was not called to some post that would have required the use of his high talents at that time. In regard to his services as State Superintendent, he said after quitting the office:
"I have toiled by day and by night, traveled by mud wagon, rail car, and steam boat, and sometimes on foot, to keep time with my programme. The State Jays out a grand field of labor for its super­intendents, and expects no covetom man to perform the work. I have done but little. I wish I could have done more. Jllay God bless the work in other hands."
Barnabas Hobbs was the first Indiana State Superintendant of Public Instruction and one of the founding fathers and great supporter of Indiana State Normal School.
Click here for biographical information on Barnabus Coffin Hobbs
Thomas Clarkson Trueblood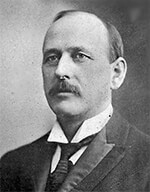 A descendent of the Blue River pioneers, won national fame as an instructor in the art of public speaking. He trained many noted men for the forum, amoung them a former president of the United States, Woodrow Wilson. He served as an instructor in the University of Michigam for half a century.
Thomas was a professor of elocution and oratory and the first coach of the University of Michigan golf and debate teams. He was affiliated with the University of Michigan for 67 years from 1884 to 1951, and was a nationally known writer and speaker on oratory and debate. He founded University of Michigan's Department of Elocution and Oratory as well as the campus debate program.
He became the subject of national media attention in 1903 when the Chicago Tribune ran an article stating that he was offering a new "course in love making." His golf teams won two NCAA National Championships and five Big Ten Conference championships. He was posthumously inducted into the University of Michigan Athletic Hall of Honor in 1981.
Click here for biographical information on Thomas Clarkson Trueblood
Blue River Academy Teaching Staff
The following is a fairly complete list of teachers at the Blue River Academy.
1837-1838 - Joseph Trueblood and Barnabus C. Hobbs (assistant)
1839-1840 - Barnabus C. Hobbs and Samira Lindley (assistant)
1840-1841 - Benjamin Albertson
1848-1849 - Aquilla Timberlake, Jane Moore and Joanna Morris
1849-1859 - Aquilla Timberlake and Abram Trueblood
1850-1851 - Timothy Wilson and Catherine Trueblood
1851-1852 - Joseph Moore
1852-1853 - Cyrus Bond and Abigail Wilson
1854-1855 - Luther B. Gordon, Nathan White and Elizabeth Albertson and Samira Trueblood
1856-1857 - Emeline Trueblood and Rebecca Trueblood
1858-1859 - Robert Style and Emeline Trueblood
1860-1861 - Calvin W. Pritchard
1862-1863 - Thomas Armstrong, Dorcas Armstron & Sarah Trueblood
1864-1865 - Thomas Armstrong & Hannah Roberts
1866-1867 - Joseph Hunt & Angelina Harvey
1867-1868 - William P. Pinkham & Lydia Stanton
Quaker Settlement Educational Sites
In 1830 the Quakers established a school in the Southwest quarter, section 14, township 3 North, range 4 east designated as Second Creek.
In 1833 the Quakers erected a two-room brick school house near their church, three miles northeast of Salem, know as "The Quaker Academy".
The Quakers established a school in their "Meeting House" located in the southwest. quarter, section 36, township 3 north, range 4 east, and a few years later built a two-room log school house in 01· near the northeast quarter, section 10, township 2 north, range 4 east. This house had the distinction of having glass windows.