Latest News from Blue River Friends Church

Hicksite Fundraising Continues
October 2020
Renovation of the historic Hicksite Meetinghouse, Est. 1815, was the main topic of discussion at the 205th annual memorial meeting held at the church on October 4. After nearly two years of planning and at the recommendation of the Indiana Landmark Association, the original siding was replaced to help preserve the centuries-old building.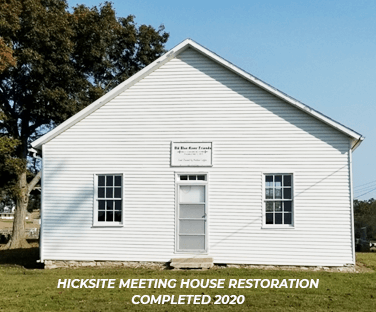 The renovation project for the Hicksite Meetinghouse, also known as Old Blue River Friends Church, included replacing the siding and restoring the original windows. New storm windows and doors will also be installed thanks to the generosity of an anonymous donor.
John Hughes, guest speaker at the annual meeting , commended those who worked to preserve the 200 year-old church for the community. In his presentation of the history of the Quaker church, he noted that Indiana became the center for Quakers in the U.S. in the 1800s. Their beliefs included the desire for peace, to love your neighbors and to put the needs of others first.
John Hinds, a birthright Quaker, undertook the nomination of the Hicksite Meetinghouse to the National Register of Historic Places in 2018. He reported at this year's meeting that it has passed the first stage, and final approval of the nomination is expected by the end of the year. Hinds commented on the importance of the building being added to the list of structures in Washington County that are on the National Register.
Fundraising for the restoration of the Old Blue River Friends Church began at the Hicksite annual meeting in 2019, and efforts continue in raising money to cover the costs. Souvenir boards made from the original siding are available for a $25 donation to the Blue River Friends Church/ Hicksite Restoration Fund. Contact Myra Wells, Jeff Wells, or Jane Clark. Other donations can be mailed to Todd Ewen, 2660 E. Quaker Rd., Salem, In. 47167.
Purchase a souvenir board from the original siding of the Hicksite meetinghouse.


10th Annual Cross Across the County - Canceled Due to Public Health Crisis
The 10th annual Cross Across the County walk will begin at Blue River Friends Church at 6:00 a.m. on Good Friday, April 10, 2020, and make several stops along the approximately 17 mile route. It will end with a Good Friday service hosted by First Baptist Church in Salem, Indiana.
For additional information about the walk contact Steve Gorman at 812-844-1471.

9th Annual Cross Across the County
Blue River Friends Church hosted the 9th annual Cross Across the County walk that began at 6 a.m. on Good Friday, April 19, 2019. Participants carried a wooden cross along local highways making several stops along the way and ending at Blue River Friends Church with a Good Friday service.